Omega Boost Gel Bites Clinically Proven to Increase Omega Levels by 50% in Just 4 Weeks
Viactiv
Save 50% Off Calcium Soft Chews and 20% Off Omega Boost Gel Bite Gummies when you buy a 3-month supply.
Free Shipping on Orders Over $25
Chewable calcium that are the perfect combination of "I want it" taste and "I need it" nutrition to help keep your body going strong.
Omega Boost uses ultra-pure omega-3 fish oil supplement with no fishy aftertaste and no fish burps.
Gel bites have better absorption than ordinary, hard-to-swallow fish oil pills.
Calcium vitamin d supplement to boost calcium absorption, help bone mineral density†, and promote bone growth†.
Calcium supplement for osteoporosis. Adequate calcium and vitamin d as part of a healthy diet – along with physical activity – may reduce the risk of osteoporosis in later life†.
Omega-3 fatty acids (EPA and DHA) are essential nutrients to help maintain total body health, especially your heart, brain, eyes, immune system, joints, hair, skin, and nails.
Omega-3 supplement benefits for skin includes improvements in skin redness, hydration, elasticity, firmness, and tone.
Calcium Chews: Take 1 soft chew, up to twice daily, with food.
Omega Boost: Pop out and chew 2 omega-3 fish oil gel bites daily, with food.
View full details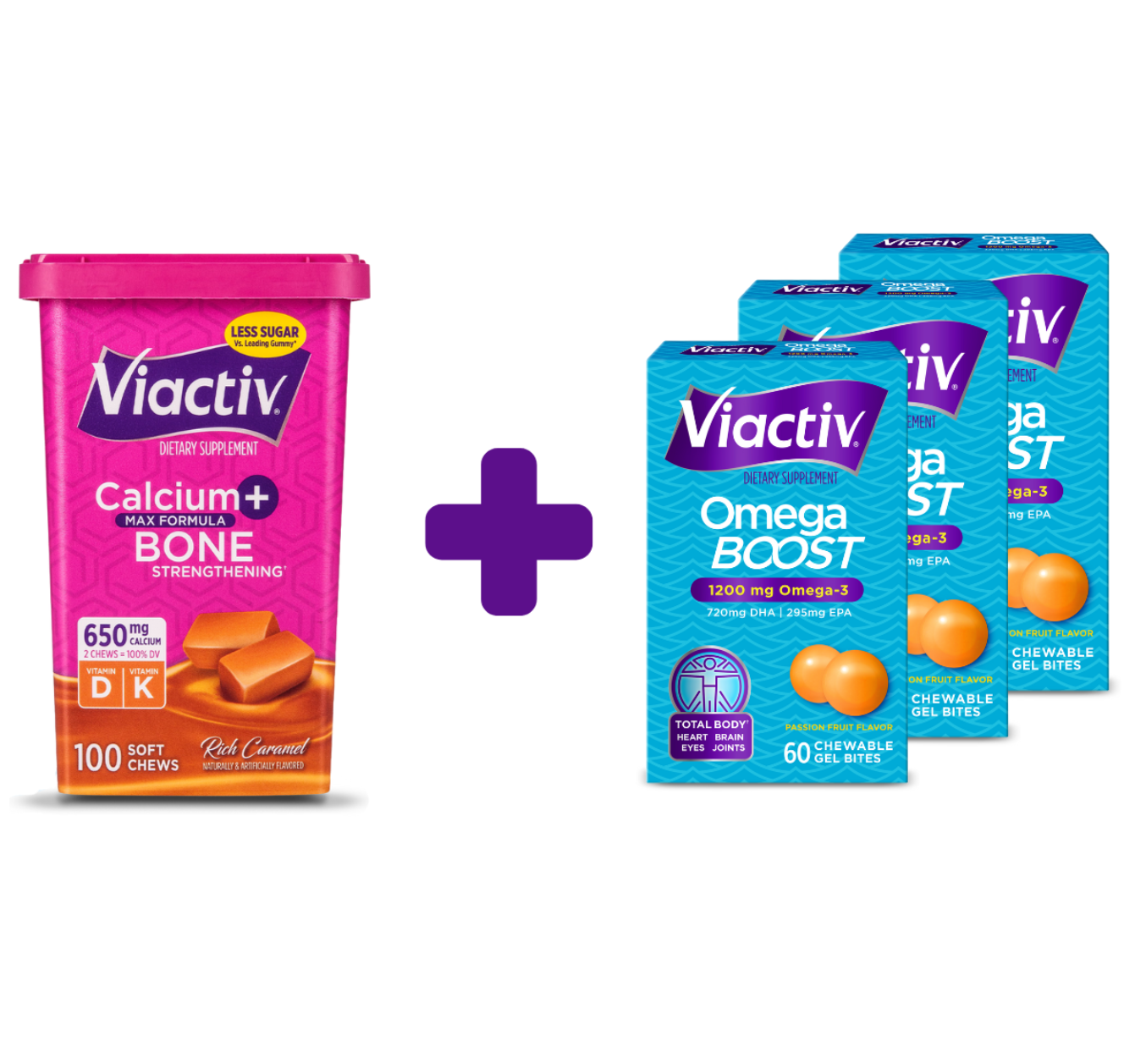 Free Shipping
Delivered Every Month
No Commitment, Pause, or Cancel Anytime
You May Also Like
Milk Chocolate + Citrus Passion

Regular price

$136.96

Sale price

$104.47

Unit price

per

Caramel + Citrus Passion

Regular price

$56.98

Sale price

$48.49

Unit price

per

Milk Chocolate + Citrus Passion

Regular price

$56.98

Sale price

$48.49

Unit price

per