Viactiv Omega-3 Shown to Increase Omega-3 Levels by 50% in Just 4 Weeks
In a clinical study at Western University of Health Sciences, 29 healthy people who started supplementation with Viactiv Omega Boost's sustainable omega 3 purified fish oil saw an average 50% increase in total Omega-3 levels in just 4 weeks.
It contains both DHA and EPA to support Total Body Benefits.
EPA and DHA are the marine sourced Omega-3s that are more bioavailable to the body.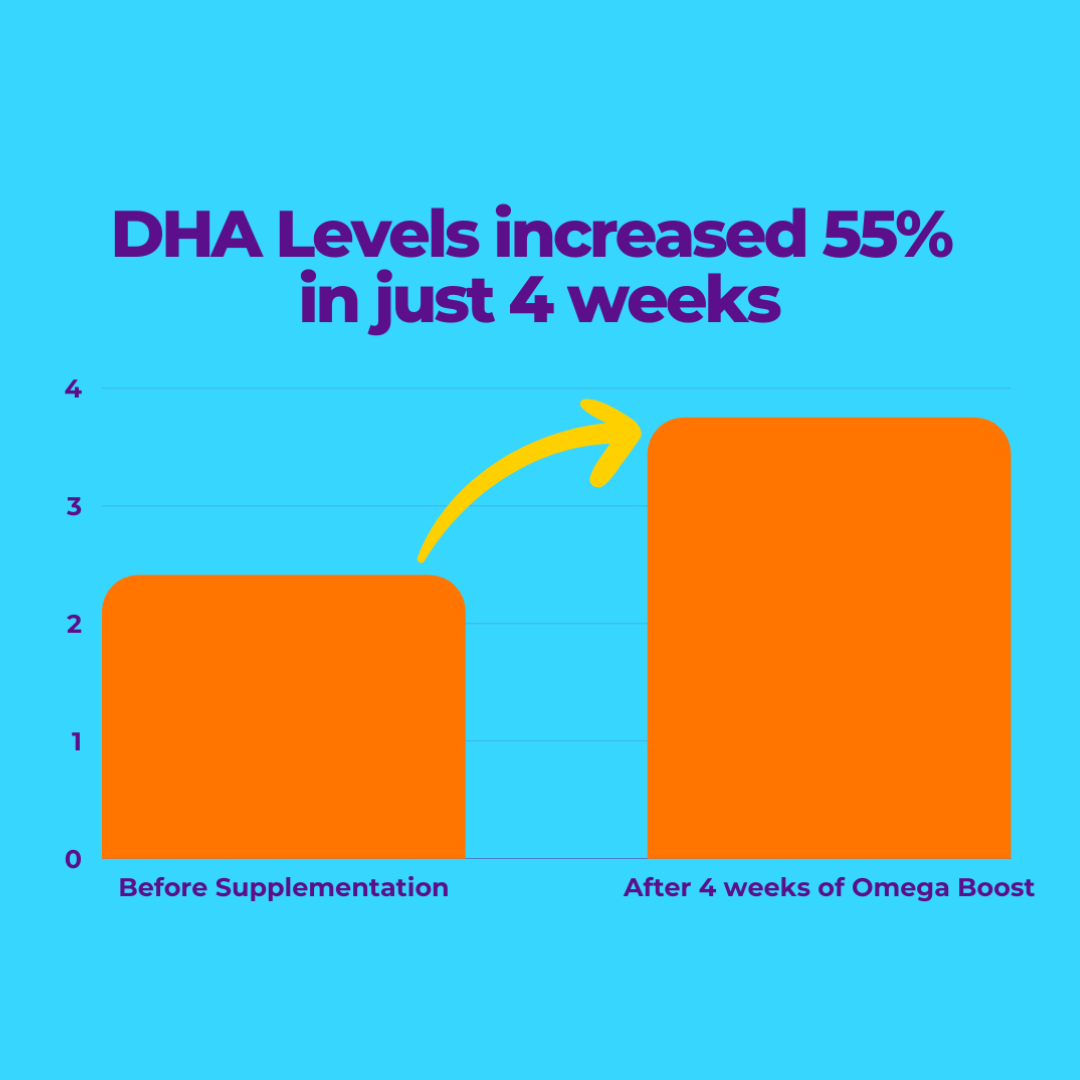 Boost DHA Levels by 55% in 4 Weeks
DHA (Docosahexaenoic Acid) from fish oil is an important type of omega-3 that supports healthy brain development during pregnancy and healthy brain function throughout life.† Viactiv Omega Boost contains 720mg of DHA per serving. Learn more about Omega-3s for brain health here and pregnancy health here.
Boost EPA Levels by 145% in 4 Weeks
EPA (Eicosapentaenoic Acid) from pure omega 3 fish oil is an important omega-3 that helps support heart health throughout life.† Viactiv Omega Boost contains 295mg of EPA per serving. Learn more about Omega-3 supplements for heart health here.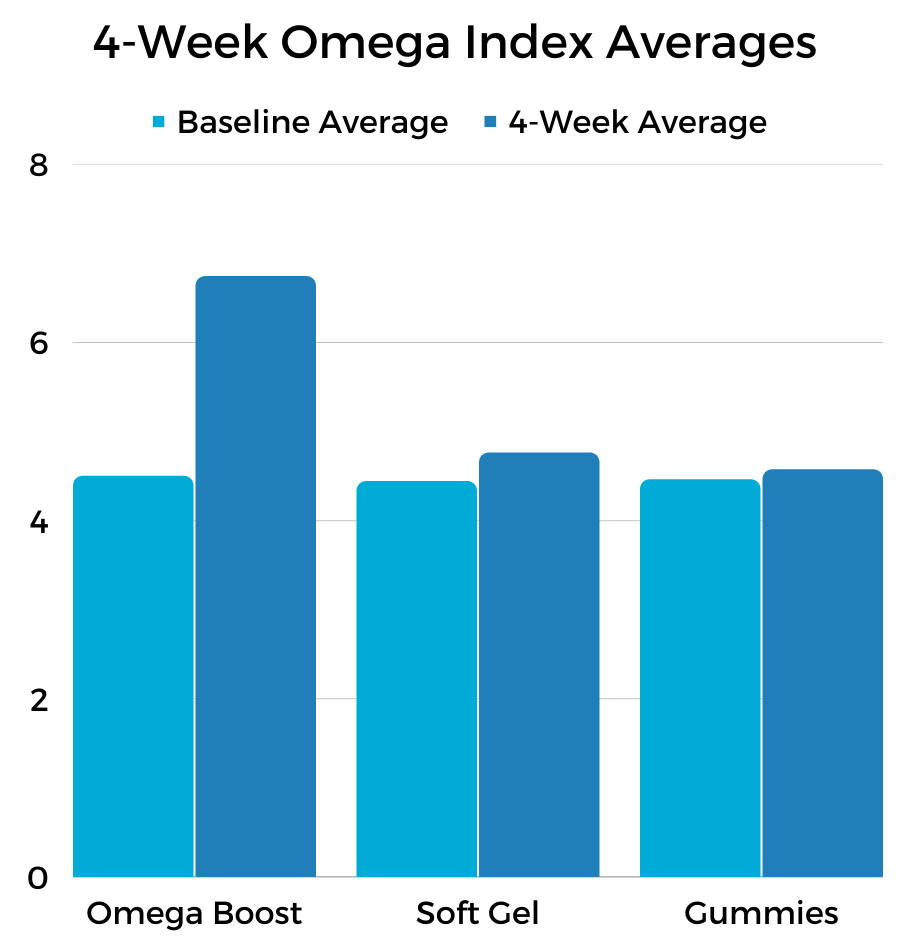 It Works Better than #1 Pharmacist Recommended Brand*
Viactiv Omega Boost Gel Bite Gummies (1200mg Omega-3) have more omega-3 per serving, and provide a greater and faster increase of omega-3 index *when compared to the Fish Oil Gummies (57mg) and top selling Fish Oil Soft Gel (720mg) of the #1 Pharmacist Recommended Brand.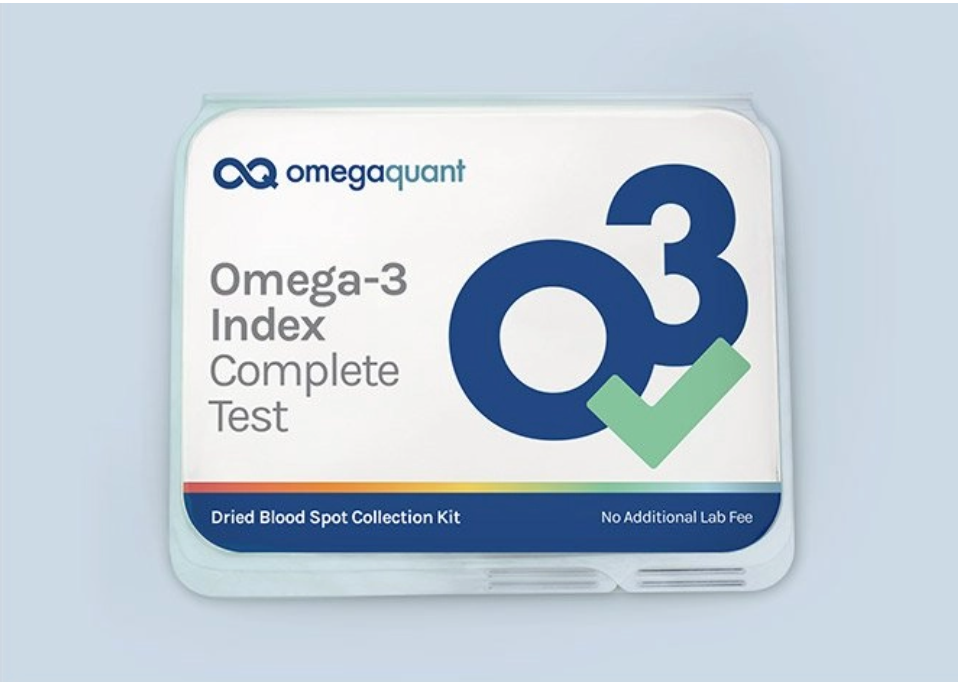 What is the Omega 3 Index?
The Omega 3 Index is the amount of EPA and DHA in red blood cell membranes and is a marker of omega-3 status measured by the Omega-3 Index Test. An optimal omega-3 index is 8% or higher, an intermediate omega-3 index is between 4% and 8%, and a low omega-3 index is 4% and below. 90% of Americans have an Omega-3 (EPA and DHA) dietary deficiency with an omega-3 index below 4.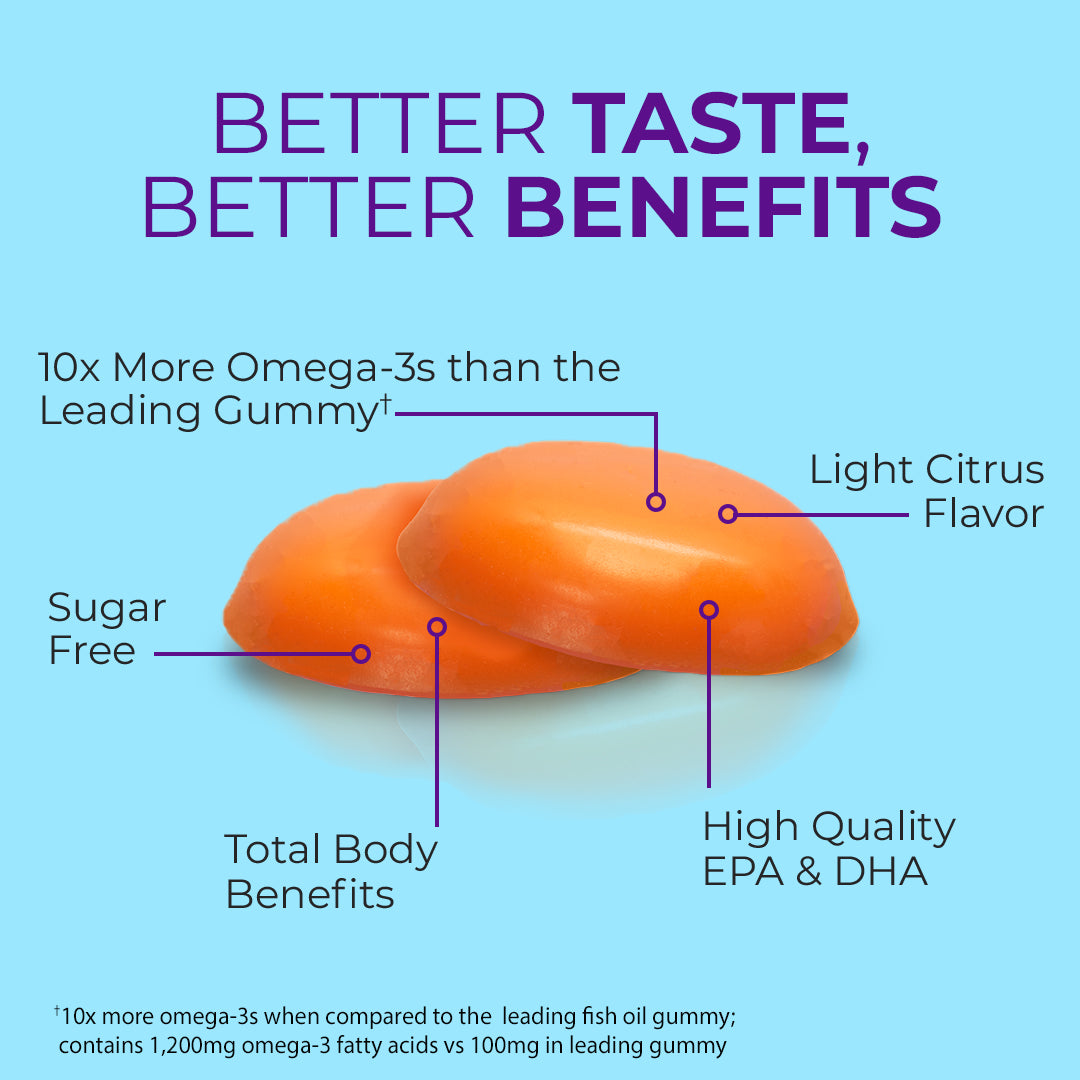 How is Omega Boost So Much Better?
Viactiv partnered with a Norwegian technology company that has perfected incorporating clinically effective omega-3 levels in a great tasting format inspired by gummies. This patented Gel Bite Gummy form provides a pleasurable experience with no fishy taste or burps, while delivering 10x more omega-3s than the leading gummy supplement and offering greater absorption than standard soft gels.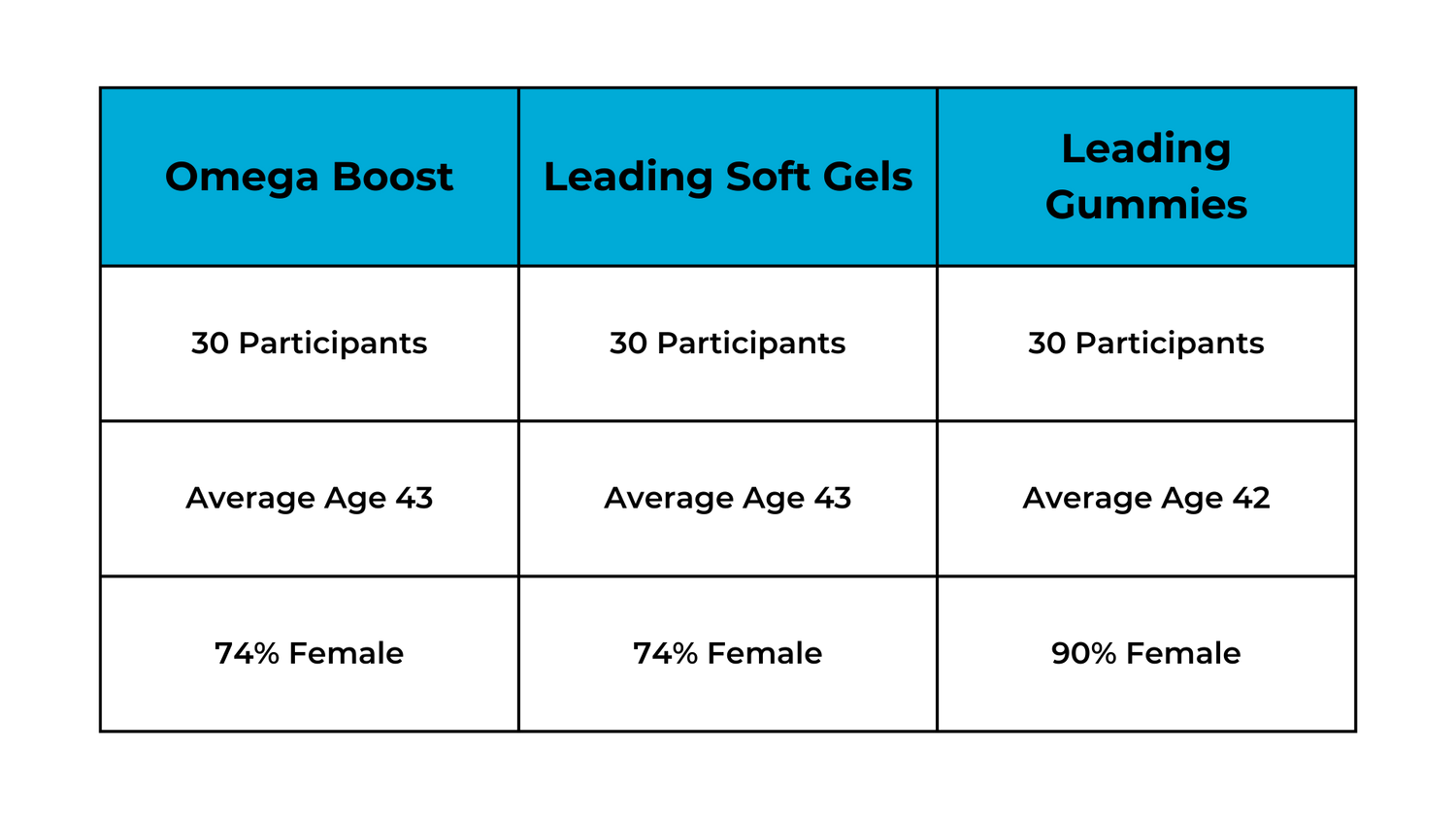 Study Design
90 individuals who self-reported not consuming omega supplements were randomly assigned to one of three groups (Soft Gels, Standard Gummies, and Gel Bite Gummies). Baseline omega-3 levels were measured, and omega-3 supplements were provided to participants who were instructed to take the supplements as directed by the manufacturer. The tests were repeated at a 4-, 8- and 12-week periods. The omega-3 levels were analyzed using the Omega Index Test from OmegaQuant Labs in Sioux Falls, South Dakota. 86 participants completed the study.
FAQS
What is EPA and DHA in Omega-3s?

Omega-3s are a member of the essential fatty acid family. The most common Omega-3s are called Alpha Linolenic Acid (ALA), Eicosapentaenoic Acid (EPA) and Docosahexaenoic Acid (DHA). ALA is the most abundant omega-3 found in nature. Unfortunately, this plant source omega-3 is not a preformed omega-3 fatty acid, meaning it must be biochemically converted in the body to EPA and DHA for the nutrients to be useful. EPA and DHA are "preformed," marine-sourced omega-3s, which means that these nutrients can be immediately beneficial when consumed. EPA and DHA are known to have many total body benefits – for your heart, brain, joints, eyes, and more. 
What is Eicosapentaenpoic Acid definition?

Eicosapentaenoic Acid (EPA) is an essential fatty acid belonging to the Omega-3 family. EPA is a "long-chain" omega-3 meaning that it has a longer chemical structure and is a "preformed" omega-3 that they can be immediately beneficial to the body. EPA omega-3s are found in marine sources like herring, sardines, anchovies, and tuna.   
What is the Omega-3 Index?

The Omega 3 Index test an actual test you can take to assess the amount of omega-3s Eicosapentaenoic Acid (EPA) and Docosahexaenoic Acid (DHA) in your blood, specifically your red blood cell membranes. Unlike a cholesterol test, you don't need a doctor to obtain an Omega-3 Index test. You can simply buy the Omega-3 Index test online, follow the instructions to conduct the test by pricking your finger, and send the test back to OmegaQuant Analytics where they will analyze and report your results.
How fast do omega-3s work?

Omega-3s are essential nutrients that must be consumed through your diet or supplementation on a daily consistent basis. These nutrients cannot be made or stored in the body either. Every day new cells are produced by the body; these cells will receive nutrition through what is consumed on that given day. It may take up to 90 days of consistent omega-3 supplementation for cells to all have adequate omega-3s available.
Shop Omega-3 and Calcium
Citrus Passion

Regular price

From $28.79

Regular price

$79.98

Sale price

From $28.79

Unit price

per

Milk Chocolate

Regular price

Sale price

$16.99

Unit price

per

Caramel

Regular price

Sale price

$16.99

Unit price

per